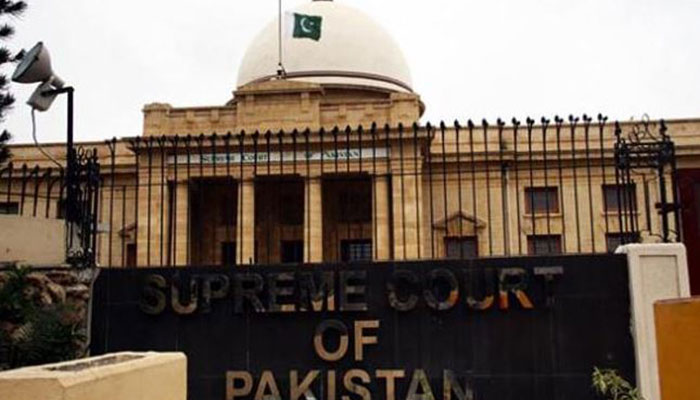 KARACHI: Chief Justice of Pakistan Justice Saqib Nisar will hear several cases related to public welfare today. 
The chief justice will separately hear the appeal of civil society activists against the Sindh High Court's order directing a retrial in the Shahzeb Khan murder case. 
Read: CJP constitutes larger bench to hear Shahzeb murder case appeal
The public welfare cases involve the sale of substandard packaged milk, provision of unsafe drinking water, state of public hospitals and traffic blockades due to VIP movement. 
Clean drinking water 
On December 23, 2017, Chief Justice Nisar remarked that the provision of clean drinking water is the responsibility of the Sindh government.
He was hearing the water pollution case at the Karachi Registry. 
Poor public healthcare, state of medical colleges
The chief justice has also taken suo motu notice of the condition of government hospitals in Karachi and traffic blockades on public roads due to VVIP movement.
During a hearing of the water contamination case in December, the chief justice asked how many medical colleges of the province have 500-bed hospitals near them and also, if the hospitals operating in the province were associated with the Pakistan Medical and Dental Council.
Regarding the poor state of public healthcare in Karachi, the chief justice summoned all the medical superintendents to appear before the Karachi Registry on January 13 (today).
The chief justice also directed the medical superintendents to bring a detailed report on the availability of medical equipment and emergency wards' machinery.
Details on the availability of required qualified doctors and nursing staff were also summoned. The medical superintendents have been directed to appear in person as well.
Meanwhile, the chief justice also took notice of admissions issues in private medical colleges in Sindh and sought a report from the relevant authorities, along with summons for personal appearance of the CEOs and owners of private medical colleges in Karachi.
Road blockades
Justice Nisar also summoned reports from the relevant authorities on the blockade of public roads for VVIPs' movement.
Packaged milk
Later, on January 11, Chief Justice Nisar took notice of the sale of substandard packaged milk. According to a notification by the Supreme Court registrar, the chief justice would hold a public hearing on the case on Saturday (today) at its Karachi Registry.
The chief justice, in the Lahore Registry, is already hearing the matter of sale of unsafe milk in Punjab as part of its suo motu notice on public welfare issues, which include the state of medical colleges as well.