KARACHI: Residents of Karachi celebrated New Year's Eve tonight without having to traverse through containers placed in and around the city's Defence neighbourhood. 
The 'good news' came late Saturday night as Sindh Home Minister Sohail Anwar Siyal visited different areas of the city to review security measures for New Year's Eve.
He noted that his visit comes on the back of citizens' complaints about difficulties they are facing after containers were reportedly placed on the roads.
As is the case every year, the majority of roads leading to Sea View Beach in Defence Housing Authority are blocked with containers to minimise the crowd at the beach. 
Siyal visited various areas near the metropolis' Defence and Clifton locales, including Sea View, and mentioned — while speaking to the media — that he has ordered the removal of the said containers.
"No containers will be placed on the roads before New Year's Eve," he told journalists, adding that none of the roads will be blocked with or without the use of containers.
The minister, however, advised police to put into effect Section 144 to take action against those indulging in aerial firing or one-wheeling as well as those who ride motorcycles without silencers.
"I, myself, will be there to monitor roads around Sea View," he commented.
The minister added that being a Muslim he will not be celebrating New Year but will ensure that residents, who do wish to celebrate, are provided adequate facilities.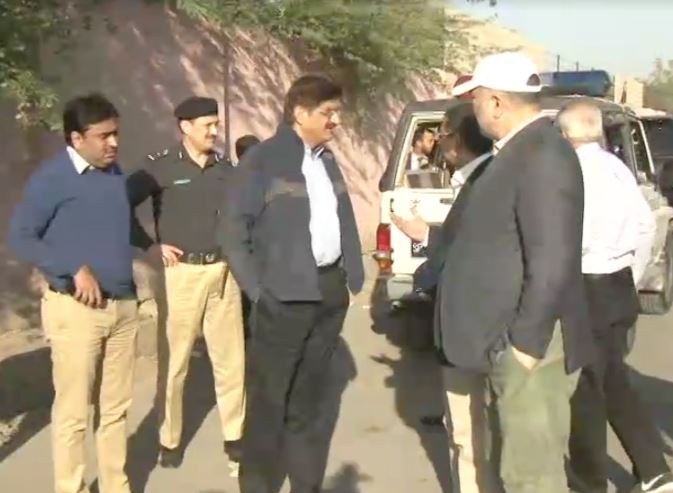 Later, on Sunday morning, Sindh Chief Minister Murad Ali Shah visited different areas of the city to monitor the ongoing development projects. 
During his visit, Shah directed the DIG South to ensure no containers block access to Sea View Beach. "The citizens of Karachi are responsible and will not create problems," he asserted. 
Later in the day, the police said in a statement that 3,000 police officers would be deployed in and around Sea View Beach and snap-checking would be initiated from 6pm onward.
A large number of citizens, mainly youngsters, have reached the beach to mark welcome the new year.
A colourful display of fireworks is organised at the beach marking the arrival of 2018.