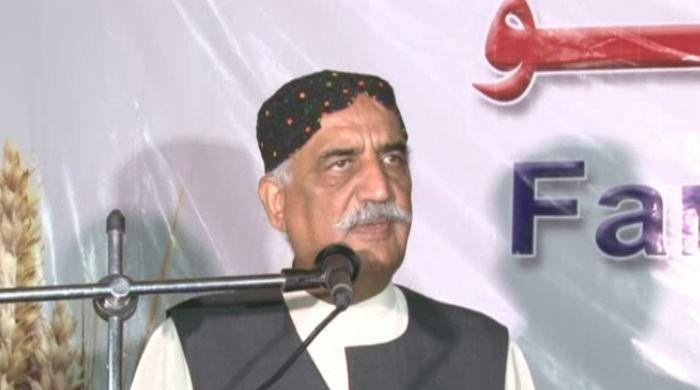 KHAIRPUR: Opposition leader Khursheed Shah said that Prime Minister Nawaz Sharif should reveal the details of his meeting with Indian business tycoon Sajjan Jindal.
The opposition leader was addressing Hari festival in Khairpur on Sunday.
"If Prime Minister is the enemy of our enemy, then he is our friend. However, if he is the friend of our enemy, then he is our enemy as well," he remarked.
On April 27, reports had emerged that Prime Minister had met with Sajjan Jindal in Murree. The news was later confirmed by PM's daughter, Maryam Nawaz, on social media. 
Read more: Indian tycoon Sajjan Jindal meets PM Nawaz in Murree
Moreover, the Opposition leader also asked,"Why should the people pay their taxes?" He alleged that PM's children made offshore companies to evade taxes.
He further said that the federal government does not think that agriculture is important for the government. "It is agriculture which is running the country," he said, adding that even industrial development is connected to agriculture.
Read: Khursheed Shah calls for immediate resignation of Chaudhry Nisar
Pakistan Peoples Party (PPP) has tried its best to develop the agricultural sector, he claimed.
"No one cares about the plight of farmers. Everyone is more interested in working people and farmers have become invisible to them," he added.
He also said that the country's population is almost 210 million now. The farmers have to produce wheat for almost 210 million people. The country's population is steadily increasing yet the government is not paying any heed to the plight of farmers.
"PPP is standing with the farmers," he said.