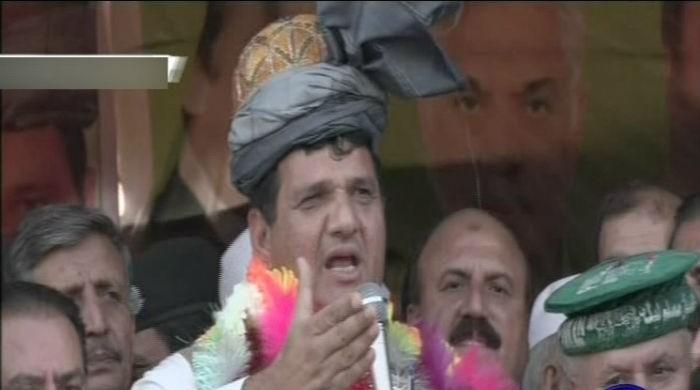 NOWSHERA: Adviser to Prime Minister Engineer Amir Muqam said on Friday that Prime Minister Nawaz Sharif is an elected representative of 200 million people and no one has the authority to make him resign.
"Nawaz Sharif did not get the office in charity,'" he said, while addressing a rally in Nowshera.
Taking aim at political rival Imran Khan, Muqam said that Khyber Pakhtunkhwa speaker was accused of corruption too but did not resign. "There are contradictions in Imran's words and actions," he said.
Imran Khan has repeatedly asked for the prime minister's resignation, continuing with his demand after the Panama case verdict.
Addressing a rally in Karachi, he again asked the PM to step down saying "a liar cannot be a prime minister of the country".
Hope Imran is ready to answer in court over offshore companies
State Minister for Information and Broadcasting Marriyum Aurangzeb once again asked Imran Khan to disclose the name of the person who made him an offer of Rs10 billion.
Criticising the PTI chief, she said in a statement that Imran should build hospitals and schools in Khyber Pakhtunkhwa and stop focusing on other provinces.
The minister said that she hopes Imran will be able to justify his offshore companies and foreign funding on May 3 in court.
Read more: PML-N threatens to drag Imran to court over claim of Rs10bn offer
Last week, Imran Khan had alleged that he was offered Rs10 billion to stay quiet on the Panama case. Refusing to disclose the name of the person who made the offer, Imran had said that the person was a close aide of Shehbaz Sharif.
This led to a political turmoil and heated exchange of words between Pakistan Muslim League- Nawaz and PTI leaders.