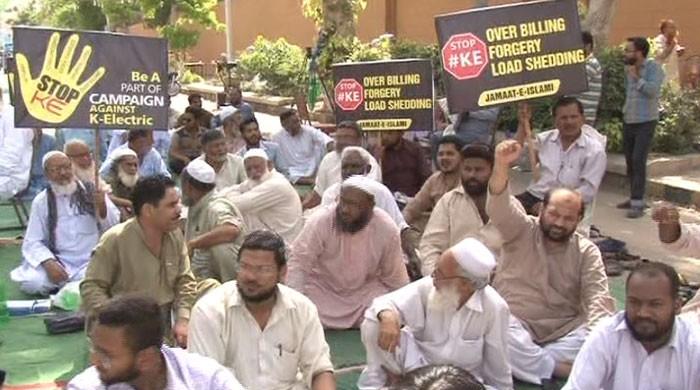 KARACHI: The workers of Jamaat-e-Islami continued their protest on Sunday outside Governor House in the city on load-shedding and over-billing.
"We want the authorities to make up for the losses borne by [the people of] Karachi," JI Karachi Ameer Naeem-ur-Rehman said while talking to Geo News. "Load-shedding can end as the plant capacity is sufficient enough."
He added they also want K-Electric to put an end to over-billing. "The money that they have looted from people should be returned."
The JI Karachi ameer said they were not protesting for the sake of politics.
The protesters also spent the night outside the Governor House.
However, the spokesperson of K-Electric refuted the claims of over-billing.
The JI workers had protested a few weeks back over the same issue outside the head office of K-Electric. They had demonstrated in a unique way as the protesters had tethered bulls at the site, to represent the inefficiency of the Sindh and federal government and the power supply company. 
"The power supply company has been making me run [from pillar to post] since the past seven years, to install a meter for my house," a woman, who is a resident of Badar Commercial area in DHA, had told Geo News. "The builder has taken money from us but has not installed our meter, while the authorities suggest we make do with an illegal connection i.e. kunda." 
A protest by JI over the same issue was scheduled for Shahra-e-Faisal, but the police arrested some of the party leaders. Subsequently, the party workers had blocked the main artery of the city, making the police resort to the use of tear gas.