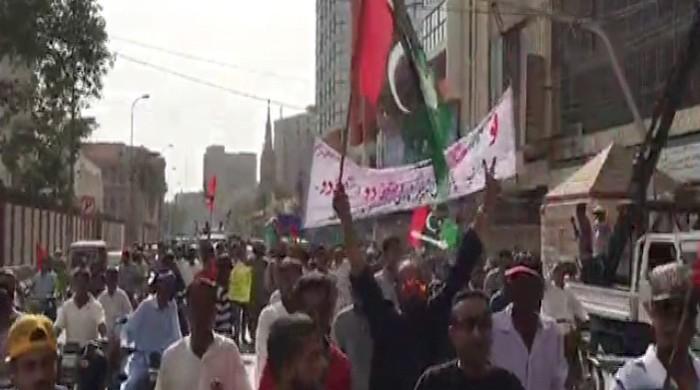 KARACHI: In a move aimed at exhibiting political strength, four political parties held rallies in the city on Sunday.
Pakistan Peoples` Party (PPP), Muttahida Qaumi Movement-Pakistan (MQM-P), and Pakistan Muslim League-Nawaz (PML-N) held rallies to protest, while Pak Sarzameen Party`s sit-in at the Karachi Press Club was called off as it entered into 18th day.
PSP founder Mustafa Kamal addressed the participants as the party ended its protest over civic issues in Karachi and announced that the PSP will hold a million march on May 14.
"We have to prepare for the next phase starting from tomorrow," he remarked, adding "Tomorrow [Monday] onwards, we will go to the houses of all the people to campaign for the million march."
MQM-Pakistan`s rally 'Suno Karachi' started from Liaquatabad to Mazar-e-Quaid under the leadership of the party chief, Dr Farooq Sattar against the Sindh government. 
At Mazar-e-Quaid, Farooq Sattar also addressed participants. He said that the time for demands has passed and now it's time for a decision.
"Time for the PPP's accountability has started," said Sattar.
Sindh's ruling party carried out protests across the province against the loadshedding of electricity and scarcity of water. 
From Lyari to Regal Chowk, PPP held a protest rally against the federal government on load-shedding, water and gas shortage in the province.
At the same time, Pakistan Muslim League-Nawaz (PML-N) marked 'Thanksgiving Day' in Karachi by holding a rally at Shahra-e-Faisal to Press Club to celebrate the Panama case verdict.
Interestingly, despite three rallies in different areas of the metropolis, no alternative traffic plan had been issued by the city administration.
Read also: PPP protests against load shedding in Hyderabad, lashes out at PML-N